Image
Save $50 on Professional Bed Bug Treatment
Bed Bug Treatment in North Carolina
Bed bugs are only millimeters long, but they're enough to stir a huge sense of dread within home and property owners everywhere. It's nerve-racking to have your sleep disrupted by the presence of these blood-sucking pests and the bites they leave behind. At Wolfpack Pest Control, we're proud to offer effective and efficient bed bug treatment with as little disruption as possible. 
With our bed bug control, you'll get:
A custom treatment plan

designed specifically for you

.

Service from

certified and registered technicians

.

A $50 off coupon for your bed bug inspection.

And much more!
Bed Bug Control From The Experts
Contrary to popular belief, bed bugs don't just go for your bed. These insects can travel by hitching a ride on handbags, backpacks, or even your latest thrift store purchases. Then bed bugs will make themselves comfortable on the fabric of their choosing, whether that's cloth furniture, pet toys, rugs, or your bed. And the list goes on!
Since bed bugs multiply so quickly, it's very important to call a professional pest specialist. Our technicians at Wolfpack make a point to be thorough, and they'll recommend measures you can take to make the most of bed bug treatment and to keep bed bugs out once they're gone.
When To Call A Pest Specialist
There are some tell-tale signs you're dealing with bed bugs in your home. When you notice these, it's best to bring in the professionals at Wolfpack:
Tiny bugs or bug casings

under your mattress or boxspring.

Small reddish-brown stains

on your bed linens.

Bug exoskeletons

built up like sawdust around crevices in your headboard.

Live bed bugs themselves:

tiny, flat oval-shaped insects. 

Bed bug bites

which are extremely itchy and often in a line or close together.
Our Reputation for Excellence
Wolfpack has been in business serving Stanly and Anson counties since 1973. Over the past 50 years, we've garnered a reputation for reliability and transparency. We understand that it takes a lot of trust to allow a technician into your home, especially when it comes to a pest as invasive as bed bugs.
Our pest specialists are all registered and certified, including ongoing professional development so that they're always up to date on the latest in pest control. This is especially important for bed bug treatment, where outdated methods can be unnecessarily disruptive and take multiple treatments over a long period. 
Say Goodbye to Bed Bugs
You deserve to get rid of bed bugs quickly and thoroughly so that you can rest easy again. At Wolfpack, we know bed bug control is important to your health and safety, so it shouldn't break the bank. You can get $50 off when you schedule a bed bug evaluation with us.
Image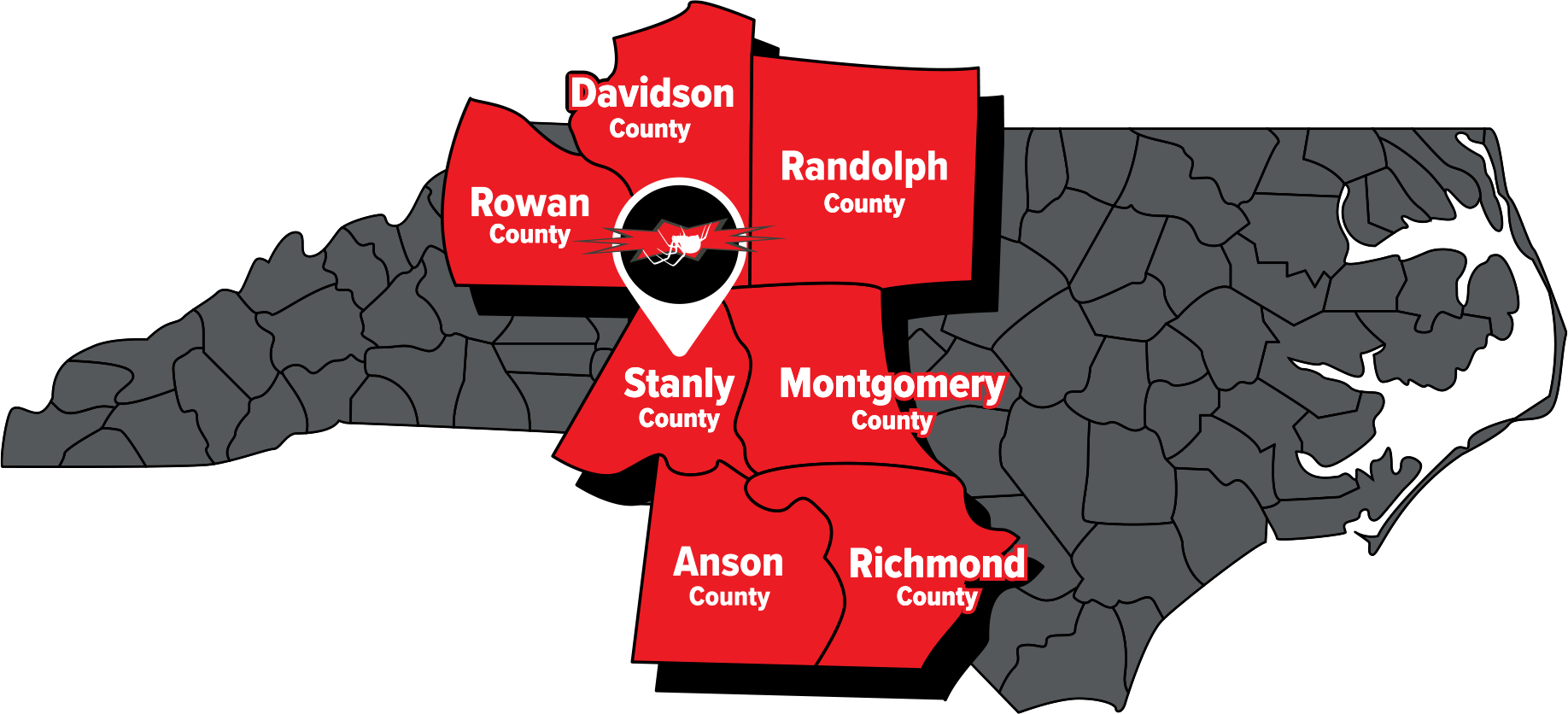 Areas We Service Around Albemarle
As a family owned and operated pest control company, Wolfpack Pest Control has been a trusted choice for pest control in the neighborhood since 1973. We're honored to be trusted to protect families and their homes across the area.