Image
Get 25% Off Pest Services in Albemarle
What kind of problem are you having? Select all that apply.
Pest Services in Albemarle
North Carolina is a beautiful place to live, but the seasons that characterize our state can attract all kinds of pests. Fortunately, Wolfpack Pest Control has 50 years of experience getting rid of pests and keeping them from coming back to your home or business. When you call on Wolfpack, you'll receive protection from: 
Cockroaches
Rodents
Millipedes
Centipedes
Fleas & Ticks
Stinging Insects
Carpenter Bees
Ants
Spiders
Silverfish
Earwigs
And More!
Image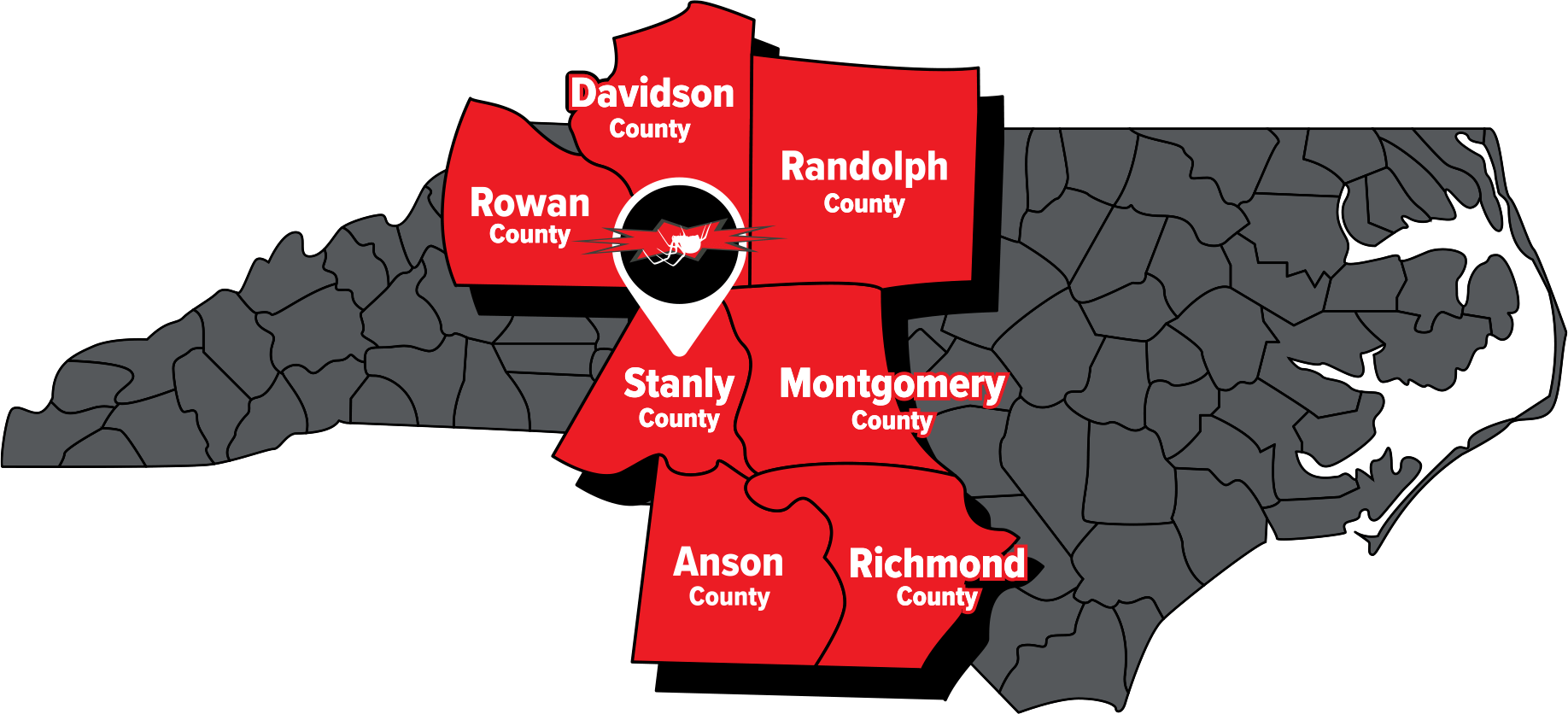 Trust Our Expert Technicians
At Wolfpack, we believe working efficiently shouldn't compromise quality. Our technicians are all licensed applicators and Termidor certified, so you can trust they'll get the job done professionally with as little disruption as possible. Altogether, our staff has over 120 years of experience combined that make our technicians well-equipped to offer comprehensive pest services in Albemarle. 
When you choose Wolfpack, our technicians will provide you with:
A courtesy call

when we're on our way.

A detailed assessment

of your home to determine course of treatment.

A customized treatment plan

that we'll go over with you.

Both one-time and recurring options

available for most services.

No contracts and no cancellation fees.

Free re-treatments in between services

as needed.
Termite Control in Albemarle
Termites are notorious for causing expensive property damage. These insidious insects feed on the wood structures of your home without regard for your safety– or your wallet. Fortunately, at Wolfpack Pest Control we offer termite control in Albemarle that gets rid of termites and preventative treatments that keep your property safe.
When you trust us for termite control, you can expect:
A detailed inspection

for termites and the conditions that attract them

Customized treatment

according to our assessment

Multi-faceted methods

using both liquid and bait stations

Pre-construction services available

A variety of service options

to fit your needs and budget
Termite infestation can be overwhelming, but our courteous technicians will always go over the treatment recommendations with you so that you're in the loop every step of the way. Don't let termites get the upper hand. Let Wolfpack take the lead.
Mosquito Control in Albemarle
Humidity is just a fact of life in the south, and moist conditions can attract mosquitos during the fairer seasons in North Carolina. These insects aren't just obnoxious, they have the potential to carry serious diseases like Malaria or West Nile Virus. 
DIY methods can work temporarily, but don't last for long and can even make a mosquito infestation worse. It's best to trust professionals for mosquito control in Albemarle, and Wolfpack provides the effective treatments you need, including:
Recurring service

during the height of mosquito season

A thorough inspection

from a highly-trained technician

Targeted treatment

that includes mosquitoes preferred harborage areas

Family and pet-safe formulas

Our pest control quality pledge

that if mosquitoes come back, we will too!