Image
Protect Your Home with Moisture Control
Moisture Control in North Carolina
After 50 years in business, our Wolfpack team is well-versed in the connections between moisture control and pest protection. Excess moisture in your home isn't just uncomfortable–it can lead to unsightly damage, and attract wood-destroying insects such as: 
Wood-Decaying Fungi
Wood-Boring Beetles 

Subterranean Termites

Carpenter Ants

Powderpost Beetles

And more
Moisture control affects several aspects of your home from air quality to structural integrity. Wolfpack Pest Control offers moisture control services that protect your home from excess moisture, wood-decaying fungus, and pests.
Focused Moisture Control
When you call Wolfpack for moisture control, we focus on the main sources of excess moisture by providing moisture barriers and dehumidifying crawl spaces. These steps fortify the structure of your home to repel two primary culprits of structural damage: wood-destroying insects and wood-decaying fungi. 
Our technicians are courteous and highly trained so you can trust you're getting the best possible service from the most dedicated team in town. Our staff is happy to explain the moisture control process and formulate a plan that works for your home.
We're committed to outstanding customer service and attention to detail that ensures a job well done. Get ahead of structural damage by calling our Wolfpack team today. 
Moisture & Wood-Destroying Insects
Whether it's a muggy summer or a damp winter, North Carolina weather lends itself to humid conditions. Unfortunately, there are many local pests that take advantage of wood structures that absorb the moisture in the air throughout the year. 
Many of these insects feed on wood fibers called cellulose or make their nests by drilling into wood. Wood softened by humidity makes an easy meal and an ideal nesting spot, especially since these pests need water sources as well.
Controlling Crawl Space Mildew
Excess moisture doesn't just attract insects. It also creates a favorable environment for crawl space mildew. Having mildew in your crawl space can lead to structural damage and health issues. While unpleasant, mildew might not sound like an urgent matter at first, but it won't take long before it turns into dangerous mold. When not properly treated, crawl space mildew can cause:
Decaying structural beams and warped floors in your home
Water stains and damage
An unpleasant, musty odor 
Allergy symptoms due to the mold spores in the air, such as coughing, rashes, and itching
Image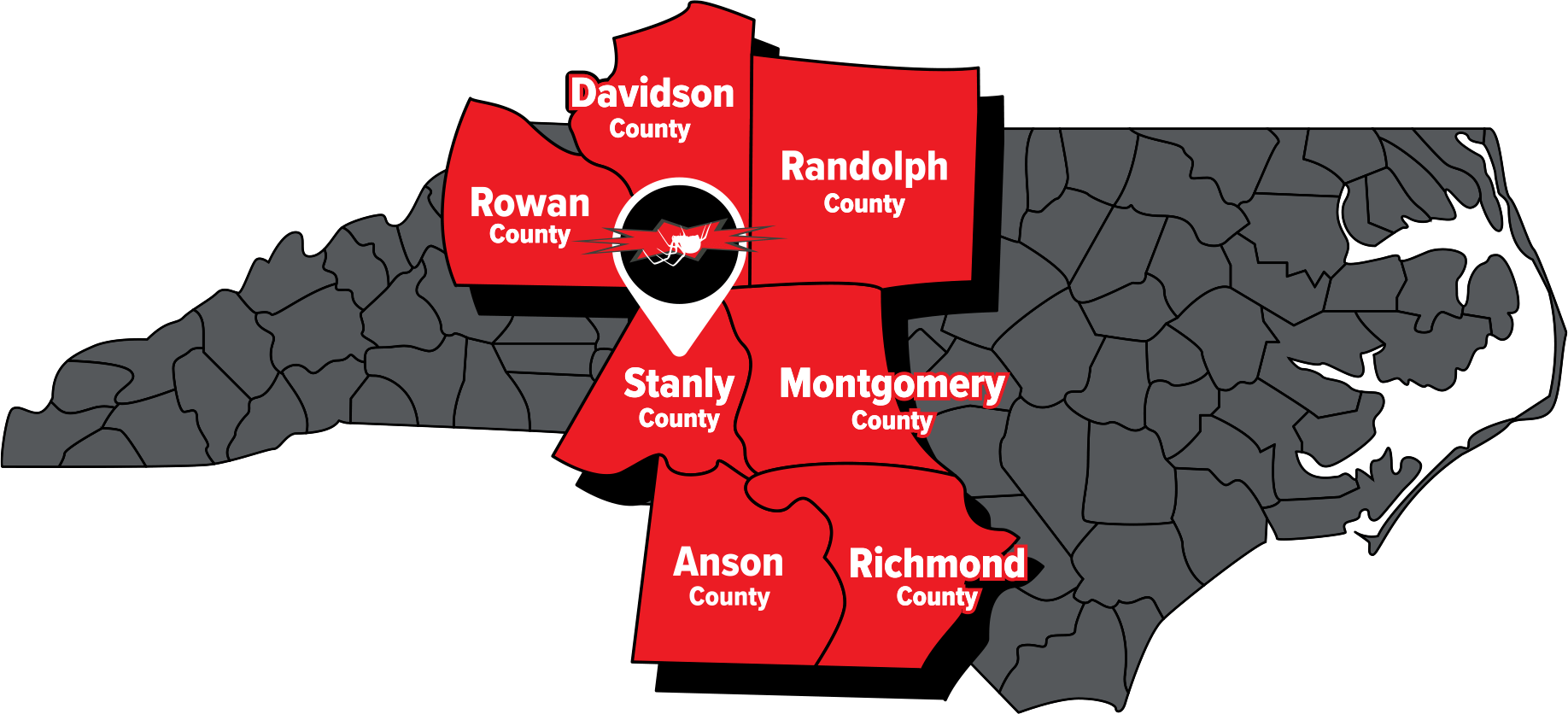 Areas We Service Around Albemarle
As a family owned and operated pest control company, Wolfpack Pest Control has been a trusted choice for pest control in the neighborhood since 1973. We're honored to be trusted to protect families and their homes across the area.