Image

Get 10% Off Termite Control in North Carolina
Termite Control in North Carolina
At Wolfpack, we've spent 50 years in business staying on top of the latest in termite protection methods. Our termite specialists are registered applicators and Termidor-certified technicians that are highly trained to spot termite damage and provide a customized termite control plan, including:
A thorough inspection

for termites and termite damage.

A personalized treatment strategy

according to your home's needs.

Review of the treatment plan

so that you're in the loop on the entire process.

Liquid treatments

with high-efficiency Termidor.

Bait stations

with the latest technology from BASF.

Warrantied treatments available 

Pre-construction treatments.
Preventing Termite Infestations
They may be tiny, but termites can cause colossal property damage. According to the EPA, termites are responsible for billions of dollars in structural damage across the country every year and collectively cost property owners two billion dollars. It's easy to see how expert termite control not only saves your wallet, but is also an investment in the safety and structural integrity of your home. 
Termite infestation can be intimidating, but our Wolfpack team is equipped and ready to provide efficient and affordable termite control. We'll craft a treatment plan with your home's unique situation in mind so that you get the targeted treatment needed to get rid of termites and keep them away.
Looking Out for Termite Damage
Signs of termites are often mistaken for other structural issues such as aging or water damage. While the age and moisture of your home are significant factors, it's important to address termite problems as early as possible to prevent expensive damages and repairs.
Don't hesitate to call Wolfpack for an inspection if you notice any of the following:
Warped or hollow-sounding wood

Sagging ceilings

Discarded wings along windowsills

The appearance of water damage on walls, wood, and even wood furniture

Sawdust-like material around wooden structures

Mud trails or tubes near wood structures or your foundation
Don't let termites catch you by surprise. At Wolfpack, we can provide preventative treatments that save you the trouble of costly damage. And if that damage is underway, we're here for you with high-quality termite control you can count on.
Wood-Destroying Insect Reports
If you're buying or selling property in North Carolina, you should know that a Wood-Destroying Insect Report (WDIR) is required on almost every residential structure sold. A WDIR must be issued by a licensed structural pest control professional, such as Wolfpack Pest Control.
A WDIR is an informational document that discloses all visible evidence of wood-destroying insects and conditions that might attract subterranean termites. WDIR visual inspections are very in-depth to help home buyers get ahead of structural damage and make informed decisions. While termites are a common culprit, WDIRs can also include damage from:
Carpenter Ants

Carpenter Bees

Powder Post Beetles

Old House Borers

Wood-Destroying Fungi

And more
House hunting is hectic enough without the addition of pest problems. Call Wolfpack and we'll take care of the WDIR process so that you can be confident in the quality of your potential home. And if you're not house-hunting, but already know your property is suffering due to wood-destroying insects, our team of dedicated technicians can help.
Image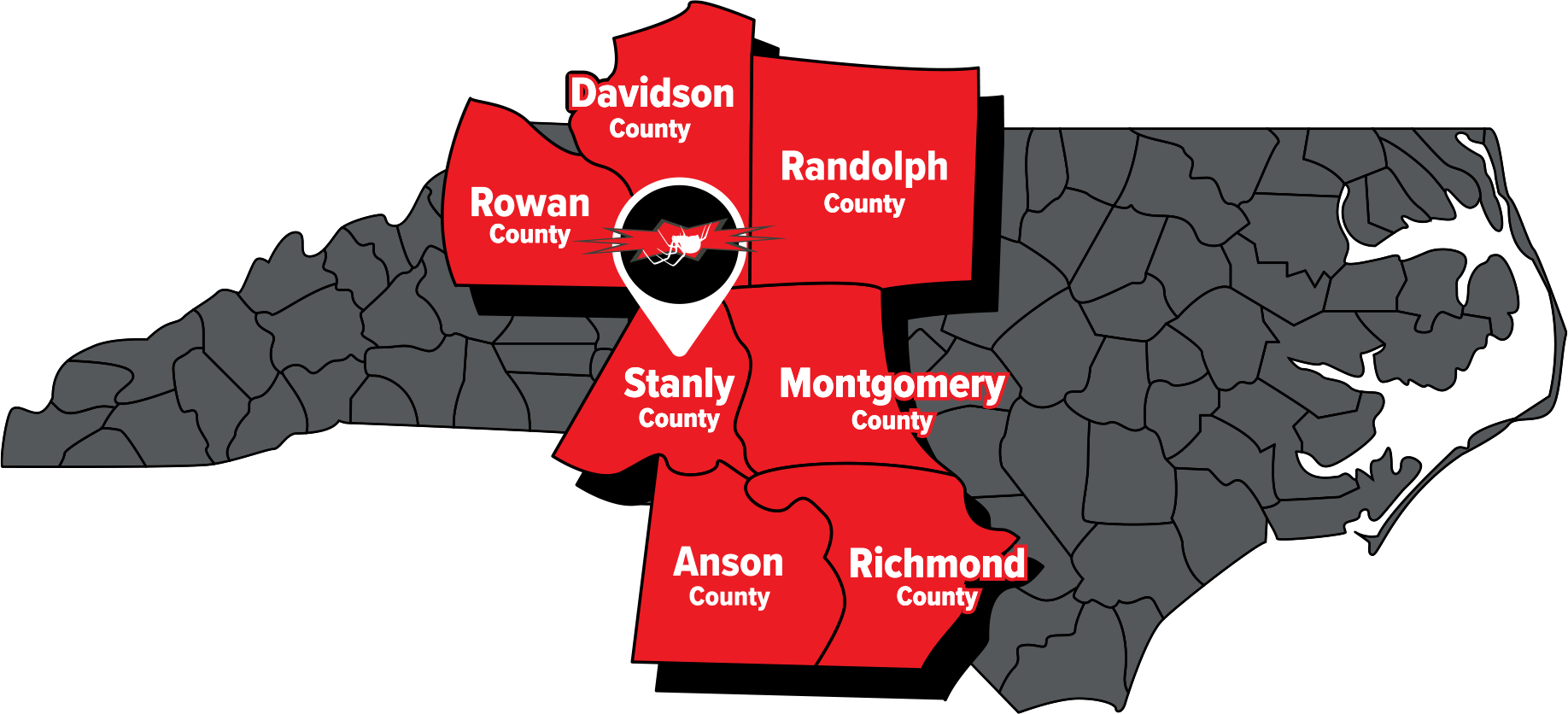 Areas We Service Around Albemarle
As a family owned and operated pest control company, Wolfpack Pest Control has been a trusted choice for pest control in the neighborhood since 1973. We're honored to be trusted to protect families and their homes across the area.