Image
Get a Free Quote on Pest Control in Locust
What kind of problem are you having? Select all that apply.
Pest Control in Locust
Wolfpack has been in business since 1973, so we've had 50 years of experience handling all kinds of local pests. Our team has been recognized as a top choice pest control company in Stanly County and surrounding areas thanks to our knowledgeable technicians and friendly customer service. The highly-trained pest specialists at Wolfpack are ready to help protect your home from:
Cockroaches
Millipedes
Fleas & ticks
Carpenter bees
Spiders
Earwigs
Rodents
Centipedes
Stinging insects
Ants
Silverfish
And more!
Image
Image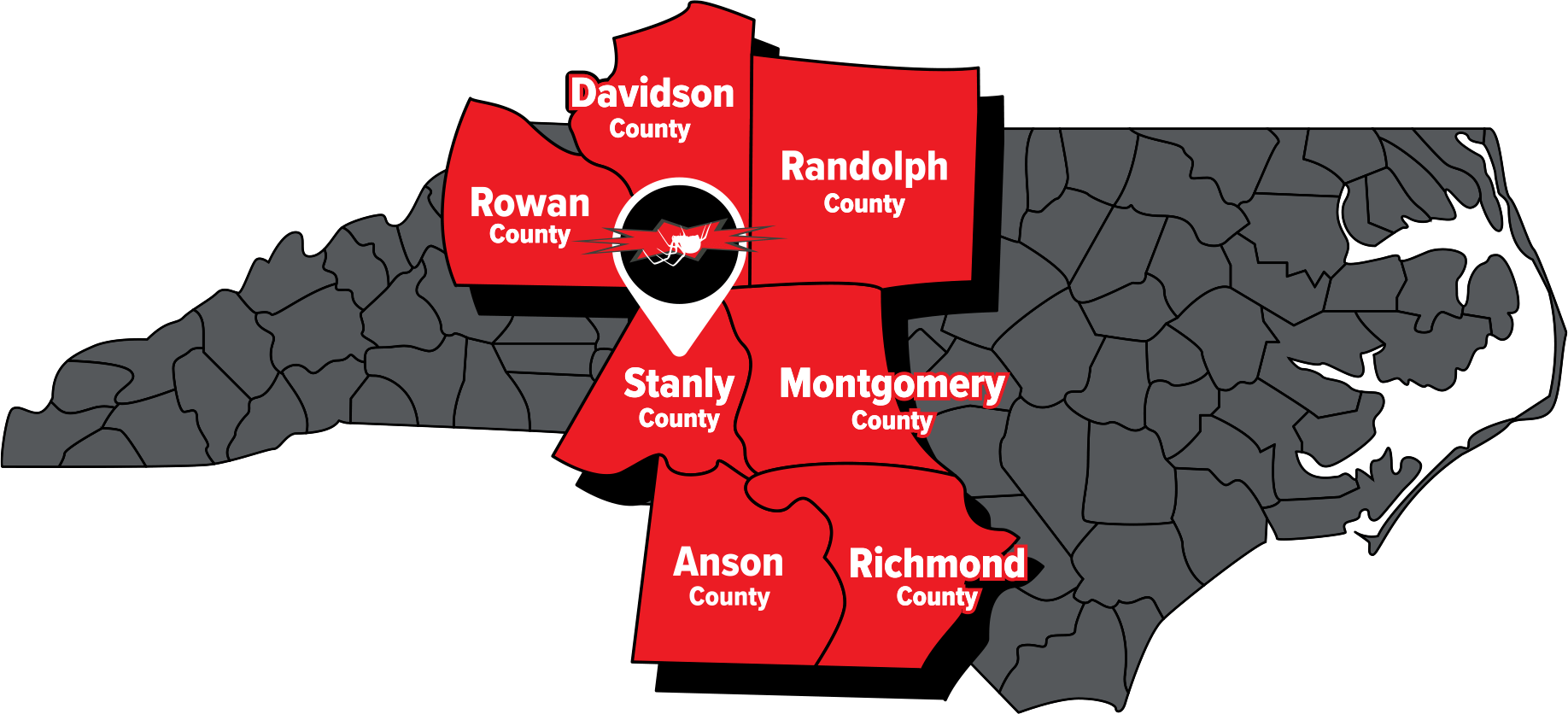 Family Owned and Operated
As a family-owned and operated pest control company, we keep in mind the importance of a happy and healthy home. When you trust us with pest control in Locust, we take our responsibilities seriously and put your safety and satisfaction first. Technicians will give a courtesy call on their way and will take the time to keep you in the loop on the customized plan they create. Whether you choose one-time or recurring treatment, you can expect a pest-free home in no time.
Our Pest Control Quality Pledge
Pest protection is important to your peace of mind. That's why we don't give up until your concerns are addressed. Our quality pledge to you is that if pests come back, we will too! That means if necessary we are happy to provide free re-treatments in between services. When you choose our pest control in Locust, you'll also get:
A free quote
No contract requirements
No cancellation fees
Service from friendly, local technicians
Customized services for your situation
Mosquito Exterminator in Locust
Mosquitoes have a way of making outdoor gatherings quite a hazard. They'll buzz threateningly around a BBQ and ruin a picnic with the itchy bites they leave in their wake. Mosquitoes also have the potential to carry diseases like West Nile Virus, malaria, and dengue fever, which cause discomfort far beyond skin irritation. Free yourself to enjoy the outdoors again with our mosquito control in Locust. Instead of resorting to unreliable DIY options, you can get truly effective results thanks to our regularly trained team of specialists. 
Our professional mosquito treatment includes:
Recurring service every 21 days

during mosquito season.

An in-depth inspection

for mosquitos and potential breeding areas.

High coverage treatment

to harborage areas using backpack blowers. 

Larvicide in standing water areas

so that mosquitos are less likely to multiply.

Formulas that are safe for family and pets

once dry.
Termite Exterminator in Locust
Termites are routinely at the top of every list of the most destructive pests. They don't buzz or sting, but their appetite for wood fiber will damage the structure of your home from the inside out. The best way to protect your home and bank account from termite damage is professional termite control. And if you're already suspicious of an infestation, it's best to act sooner rather than later.
Our technicians at Wolfpack are registered applicators and Termidor certified in order to offer the best termite control in Locust. They're equipped with technology from Termidor and BASF to get rid of termites and keep them away in the future. When you trust us for termite control, you can expect:
An expert inspection

for termites and signs of damage.

Customized treatment

according to our assessment of your home.

Both liquid and bait station treatments.

Frequency options

ranging from one-time to recurring.

Pre-construction options available.
Commercial Pest Control in Locust
Keeping your business pest-free is important to you, your customers, and your employees. So why take the risk? Wolfpack offers commercial pest control services in Locust that are guaranteed to keep the bugs away for good. Just give us a call and we'll be out to give you a free quote and plan your treatment. We service:
Restaurants
Office buildings
Hotels
Farms
Schools
And more!